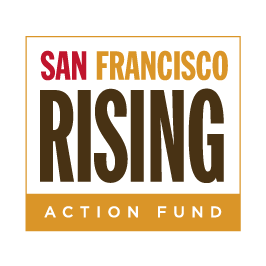 SF Rising Action Fund 2014 Endorsements
San Francisco Rising Action Fund is excited to share our 2014 elections endorsements with you! We are proud to stand with candidates who share our values of social justice, equity, and keeping San Francisco a city where all families can thrive. This November 4th, there are many important races and ballot measures that will determine the future direction of San Francisco — will we be a city that gives opportunities for all working families or a city that caters to corporate interests and housing speculators? Cast your ballot with SF Rising Action Fund's endorsements to ensure our city stays affordable for all!
---
Priority Endorsements
Assembly District 17: David Campos
Prop G: Anti-Spec Tax
Prop J: Minimum Wage
Candidates
District 6 Supervisor: Jane Kim
District 10 Supervisor: Ed Donaldson & Tony Kelly
Ballot Measures
Local
Prop A: Transportation and Road Improvement (Bond)
Prop C: "Children's Fund" (Charter Amendment)
Prop E: Soda Tax
Prop K: Affordable Housing Goals (Declaration of Policy)
State
Prop 2 (formerly Prop 44) – Rainy Day budget
Prop 47 – The Safe Neighborhoods and Schools Act of 2014
---
This year we are working on 3 key issues: David Campos, Prop G, and Prop J
David Campos for State Assembly
In his 6 years on the Board of Supervisors, and his career before that as a public sector attorney, David has been a resolute champion for working class people of color.

He's been at the cutting edge of making local government respond to our needs, proving himself to be a master legislator – from making MUNI free for low-income youth; to assuring workers have access to the health care through the Healthy San Francisco network of clinics, as the program was intended, despite strong interference from the business community; to leading the fight to protect long term rent controlled tenants from housing speculators.

The proof is in his record: you don't have to convince Supervisor Campos to do right by working people — and we know that Assemblymember Campos will be just as ethical, accessible and effective. Let's get this queer formerly undocumented immigrant from Guatemala to Sacramento!
Prop G – "Anti-Speculation Tax" – Transfer Tax on Residential Property Re-Sold in Five Years
YES
Prop G will push back on one of the strongest driving forces of gentrification and displacement in San Francisco, speculation. It will stop serial evictors by requiring investors who "flip" (quick purchase & re-sale for huge profits) multi-unit properties in less than 5 years to pay higher taxes on the re-sale. That's why Prop G was the policy chosen by the hundreds of renters and tenants rights activists who participated in the first City-Wide Tenant Convention, this past February. Vote yes on Prop G.
Prop J – "Minimum Wage Increase" – Minimum Wage Increase Referred Measure
YES
If passed, Prop J will raise the minimum wage in San Francisco to $15/hour. This is part of a national fight and points toward the call for a real living wage for all workers. San Francisco has the fastest growing wealth divide and the highest housing costs in the country. The current minimum wage of $10.74 leaves working families unable to cover basic living expenses. Support workers and vote YES on Prop J.
Join SFR Action Fund and get involved with our community & labor campaign, Families for an Affordable San Francisco, to win these important fights for working families! While speculators, developers, and corporate campaigns are trying to buy this election, SFR Action Fund is hitting the streets to educate voters and ensure SF is a place where all our families can thrive! Sign up to volunteer here: www.affordabilitystartsnow.org
---
Jane Kim for District 6 Supervisor
Since her days as a Chinatown community organizer and her tenure as President of the Board of Education, current District 6 Supervisor Jane Kim has been a passionate and powerful advocate for working class communities of color in San Francisco.

Jane has sponsored policies that have had important impacts on our communities, like the "ban the box" Fair Chance legislation, which prohibits employers and affordable housing providers from discriminating against people with criminal records. And as a representative of a District 6 that includes the Tenderloin, the South of Market, and Mission Bay, Jane is at the forefront of many land use decisions at City Hall.

She knows how important it is to balance the production of affordable housing with market rate housing – that's why she's introduced the critical "housing balance" legislation that is currently being debated at the Board of Supervisors.

Let's help Jane run successfully for a second term!
District 10 Supervisor
Ed Donaldson & Tony Kelly
More than any other place in the city, District 10 represents the future of San Francisco.
Once a mighty center of port-related activity and major naval investment in the shipbuilding industry, the economic opportunities in the neighborhood drew thousands of African Americans from the southern United States during and after the Second World War. In the decades since, immigrants from Latin America and China have continued to move into its neighborhoods to work, to raise their families, and to thrive. After decades of public and private disinvestment, the district is beginning to attract attention from many outside interests.
Today, San Francisco's African-American population has dwindled to less than 6%. Along with the economic promise that may come with future development in District 10, the threat of massive displacement for the district's current communities looms large.
That's why now more than ever, District 10 needs someone in City Hall with vision –someone who is singularly focused on the fate of its working class communities.
We need a Supervisor who won't waver when it comes to making sure workers have access to the public healthcare to which they are entitled, that immigrant families aren't ripped apart by the federal government's insatiable deportation regime, and that our homeless residents have every opportunity to be sheltered.

Ed Donaldson is an African- American District 10 native with deep roots in the community and a strong vision for social and economic equity. His years as the Executive Director of the San Francisco Housing Development Corporation made him a master of affordable housing financing details — something the district needs so much more of!

Tony Kelly is a San Francisco native with strong progressive politics, ample community leadership experience (including two tenures as President of the Potrero Boosters Neighborhood Association), and sharply honed expertise in San Francisco's land use policies – a critical skill in a district rife with development opportunities.
---
Ballot Measures
San Francisco
Prop A – Transportation and Road Improvement Bond
YES
Prop C – "Children and Families First" City Funds Tax and Administration Proposal
YES
Prop E – Sugary Drink Tax
YES
Prop K – Additional Affordable Housing Policy
YES
State
Prop 2 – Rainy Day Budget Stabilization Fund Act
NO
Prop 47 – Reduced Penalties for Some Crimes Initiative
YES