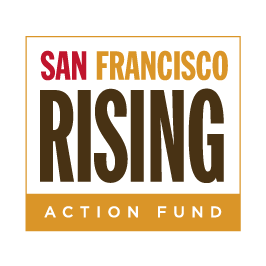 SF Rising Action Fund November 2016 Endorsements
Cast your ballot with SF Rising Action Fund on Tuesday, November 8th! SF Rising Action Fund is proud to endorse progressive candidates that will work for San Francisco's working families and communities of color.
CA State Senate: Jane Kim
As current District 6 Supervisor, Jane has passed laws that provide stronger tenant protections, support solutions for housing SF's homeless, and increase affordable housing. Currently, she is working to make City College free for all SF residents. We need Jane to bring these policies and our voices to Sacramento!

District 1 Supervisor: Sandra Lee Fewer
Sandy has shown she will fight to ensure that all students get a quality public education. She would bring decades of experience, commitment, and strong Richmond neighborhood roots as Supervisor. Sandy is the clear choice for tenants, families, and workers.
District 3 Supervisor: Aaron Peskin
Last year, we were excited to help bring Aaron Peskin back on the Board of Supervisors in the Special Election. Now he's running to start a new term, and we're excited to continue supporting Aaron who is committed to fight to expand affordable housing and protect renters' rights in San Francisco.
District 7 Supervisor: Norman Yee
Norman Yee's leadership has been needed on the board of supervisors with this 30+ years of experience in the community and school board. He has lifted the voices of the growing immigrant families in his district. He has voted with progressives on key issues such as ending luxury condo conversions and played a leadership role in opposing Illegal Short Term Rentals, like AirBnB.
District 9 Supervisor: Hillary Ronen
Each day in District 9, the residents of the Mission, Bernal Heights, St. Mary's Park and the Portola are experiencing the impacts of gentrification and displacement. We want a leader in City Hall who understands what's at stake and who has a demonstrated track record fighting for and winning for our communities. That leader is Hillary Ronen, and we are proud that she's our sole endorsement in District 9!
District 11 Supervisor: Kimberly Alvarenga
With a background in community organizing at the local level, and legislative wins as Assembly member Tom Ammiano's SF Chief of Staff on the state level, Kim's track record speaks for itself. From helping pass a landmark Domestic Worker Bill of Rights to providing services for low-income women, Kim is our champion in District 11!
BART Board, District 7: Lateefah Simon
Lateefah Simon has spent her entire career fighting for communities of color. She started her career with the Center for Young Women's Development. She is committed to making BART more user-friendly for riders with disabilities and more equitable for low-income riders.
---
San Francisco Propositions Vote this November for Affordable Housing, Good Government, Funding for Schools & City Services and Less Criminalization.
| | | |
| --- | --- | --- |
| PROPOSITION | NAME | POSITION |
| Proposition A | Funding for San Francisco Schools | YES |
| Proposition B | Renew Parcel Tax to Fund City College | YES |
| Proposition C | Loans for Affordable Housing | YES |
| Proposition D | Allow Voters to Elect All District Supervisors | YES |
| Proposition E | Street Tree Maintenance Becomes a City Responsibility Again | YES |
| Proposition F | Allow Youth to Vote in Municipal Elections | YES |
| Proposition G | Rename the Office of Citizen Complaints | NO POSITION |
| Proposition H | Create Independent Elected Advocate for San Franciscans | YES |
| Proposition I | Stable Funding for Services that Serve Seniors and Adults with Disabilities | YES |
| Proposition J | Funding to Prevent Homelessness and Better Transportation | YES |
| Proposition K | Increase General Sales Tax to Cover Prop J | YES |
| Proposition L | Give Board of Supervisors More Power to Appoint MTA Directors | YES |
| Proposition M | Create Housing and Development Commission to Oversee City Affordable Housing | YES |
| Proposition N | Give Non-Citizens Voting Rights in School Board Elections | YES |
| Proposition O | Allow Corporations to Speed Up Office Development in Hunters Point | NO |
| Proposition P | Shift Affordable Housing Projects from Nonprofit to Private Developers | NO |
| Proposition Q | Attack the Homeless by Banning Tents on Sidewalks | NO |
| Proposition R | Police-enforced Gentrification of our Streets | NO |
| Proposition S | Reallocate Hotel Tax to Fund Arts & Family Homelessness Prevention Programs | YES |
| Proposition T | Restricting Gifts and Campaign Contributions from Lobbyists | YES |
| Proposition U | Make Affordable Housing Unaffordable | NO |
| Proposition V | Tax on Distributing Sugar-Sweetened Beverages | YES |
| Proposition W | Increase Luxury Real Estate Tax | YES |
| Proposition X | Preserve Space for Neighborhood Arts, Small Businesses and Community Services | YES |