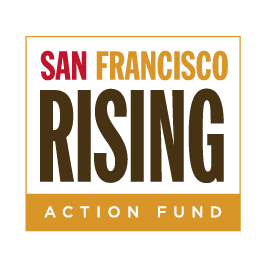 San Francisco Rising Action Fund: November 2019 Endorsements
While the rest of the nation prepares for 2020 battles, in about four months from now, San Francisco has yet another local election this November 5, 2019. This November we have a rare opportunity to elect a truly progressive District Attorney, or "DA". Following a wave of victories across the country to elect DAs that run on a racial justice platform of police accountability, cash bail reform, and de-carceration, this race is more significant than ever, as the general public learns what a DA actually does has huge impacts for all of us. To end the cycle of violence that youth of color face, we must keep children out of cages by closing SF's juvenile hall, as well as ensuring that SF police do not collaborate with ICE to lock up immigrant children in Trump's war on immigrants. Criminal justice issues are racial justice issues and economic justice issues.
Despite its reputation as the most liberal city in America, racial disparity defines San Francisco's criminal justice system. While Black folks make up less than 3% of SF's population, they continue to make up 53% of inmates in jail. The majority of the jail population is also young — 56% are under the age of 35. Prisoners ages 18 to 25 comprise 28% of the jail population, but that age group made up only 12 percent of the city's population. Additionally, two thirds of people are back in prison within three years of their release. Breaking the cycle of crime and incarceration is the only way to make us safe. The time is ripe for a reformer to lead the office, and for the first time in over a century, we will see a competitive DA race with no incumbent running for office.
SF Rising Action, a multi-racial organization building political power for working class San Franciscans and communities of color, is excited to announce our early endorsements for the District Attorney race and the District 5 Supervisor race.
---
Left: CHESA BOUDIN – #1 CHOICE FOR SF DISTRICT ATTORNEY
Right: DEAN PRESTON – #1 CHOICE FOR SUPERVISOR, DISTRICT 5
ABOUT CHESA BOUDIN, DISTRICT ATTORNEY #1
Covered by local news and even the New York Times, you may be familiar with Chesa's story about growing up visiting his parents in maximum security prison, which shaped his passion for criminal justice reform. There is no one better to serve as our District Attorney and lead progressive reforms than someone who intimately knows the damage caused by family separation and incarceration. Because of his personal experience, Chesa not only chose the career of a public defender representing poor clients, he is more committed to using the DA's office to fight for racial justice than any other candidate we interviewed. His track record demonstrates that these are not new ideas that he's adopted as it becomes popular to run as a "reform" DA — Chesa has been a leader in eliminating cash bail (which preys on low-income defendants) and in protecting immigrants by developing a non-cooperation policy with ICE. Chesa also publicly supports the proposal to close SF's juvenile hall, which sits ⅔ empty, and to divert that funding to preventative support programs for youth.
As our friends in Queens, New York wait for the arduous process of a recount in their District Attorney race, the left coast has its own chance to make history by electing the first public defender to become SF District Attorney. Donate, volunteer, and learn more about Chesa at www.chesaboudin.com.
ABOUT DEAN PRESTON, DISTRICT 5 SUPERVISOR #1
Most known for his impressive career as a tenant rights advocate, Dean Preston is running for the second time for this seat, which he lost in 2016 to then Supervisor London Breed. What's different this time around? Since 2016, Dean has built an impressive grassroots campaign in his neighborhood which has worked on important issues for working class communities of color including passing Prop F in June 2018 (tenant right to legal counsel) and Prop C in Nov 2018 (affordable housing and services for homeless families). In San Francisco, and particularly in District 5, gentrification and displacement of communities of color is an ongoing crisis — and nothing short of a dedicated tenant advocate with bold solutions will be able to stand up to the real estate industry and developers profiting from it. Dean also supports the campaign to develop a Public Bank in San Francisco, rooted in principles of racial, social, economic, and environmental justice. Donate, volunteer, and learn more about Dean at http://www.votedean.com .
Support our candidates and our agenda to build political power for working class communities and communities of color in San Francisco!
Donate to SF Rising Action to ensure grassroots campaigns drive the agenda, and not corporate donations.
Thank you for all the work you do!
Emily, Neva, Kevine, Antonio, Joyce, and Vanessa