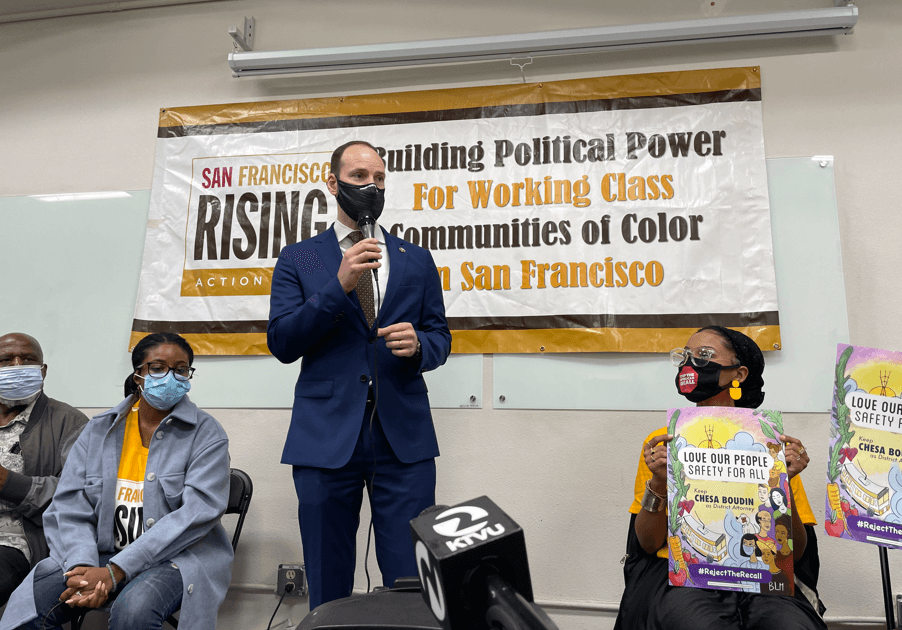 SF Rising Action Fund is proud to announce our endorsement of No on Proposition H
DA Boudin has kept the promises he made when he first ran for DA just 2 years ago; he's worked hard to protect our communities from the harms of mass incarceration by expanding services for victims and survivors, reducing the number of incarcerated people in jail, and centering restorative justice to address the root causes of crime. But the people behind this recall attempt are upset at the progress we've made in centering public safety for all in San Francisco.
This recall is another attack by those who are threatened by progressive criminal justice reform. They are unhappy that we are fighting to dismantle a system of white supremacy that has oppressed Black, Indigenous, and other People of Color for decades. But we will stand strong for racial and economic justice by opposing this recall.
Join SF Rising Action Fund in rejecting the recall against DA Chesa Boudin to show the people behind it that our communities are ready to defend the DA, who believes, as we do, in alternatives to incarceration, investing in rehabilitation services, centering survivors and victims of crimes, and in the potential of restorative justice to help our communities thrive.
Sign up to help us reach SF voters about Prop H so we can inform them about what is at stake, who is really behind this recall, and urge them to vote No on H.
In solidarity,
SF Rising Action Fund
Paid for by Tenants and Families United to oppose the Recall of District Attorney Chesa Boudin sponsored by Center for Empowered Politics. Committee major funding from Elizabeth Simons