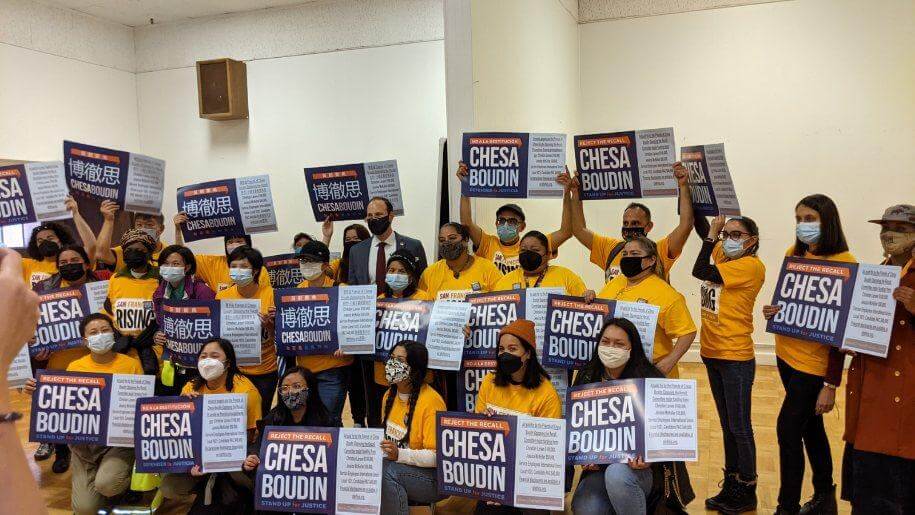 Community organizations representing working-class communities of color show support for SF DA amidst recall attempt
Several community-based organizations and unions came together on Monday, December 6th at the Excelsior Works in the Excelsior district in San Francisco to show their united support for District Attorney Chesa Boudin's progressive vision for justice during the recall attempt against him.
"In 2019, voters elected Chesa Boudin to be our DA because of the promises he made to create progressive change," said Celi Tamayo-Lee, Interim Co-director at SF Rising Action Fund. "The DA has kept those promises by acknowledging the harms of mass incarceration, centering victims and survivors of crime, and beginning to utilize restorative justice over incarceration. The people behind this recall are upset that our city is making progress towards dismantling a system rooted in white supremacy that has disproportionately hurt Black, Latinx, and low-income communities. This recall is a danger to our communities and SF Rising Action Fund will stand strong with our allies to defeat this attack."
This second recall attempt against the DA, which comes after a first attempt failed to gather enough signatures in September, has been viewed by communities of color and working-class communities as an attack on this country's progress in moving away from a classist and racist system that has done nothing to reduce crime, and in fact, as evidenced by high recidivism rates, made the situation worse.
As the community organizations and unions voiced at the rally, they are glad to finally have a district attorney who understands and works to mitigate the harms that come from the carceral system. They know change doesn't happen overnight but they plan to support the DA so he can continue to do what voters elected him to do and work with communities in San Francisco for real progress with our criminal legal system.
"SF Rising Action Fund envisions a future in which all people, no matter their race, gender, zip code, or background, feel safe in their own communities," said Javier Bremond, Campaigns and Field Organizer at SF Rising Action Fund. "We see a future in which public safety can work for all of us. We look forward to working with DA Boudin to continue to reimagine the criminal legal system for one that gets to the root causes of crime while seeing all people as deserving of dignity."