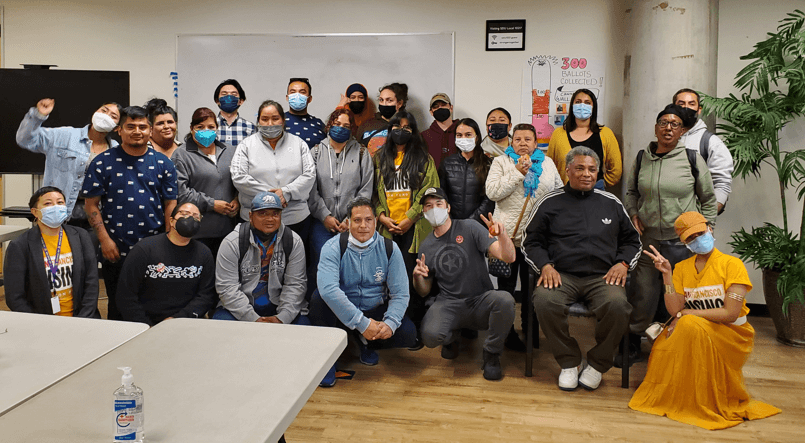 Our statement on the passing of Proposition H: "It doesn't end here, not by a longshot."
We are deeply disappointed by the news that Proposition H has passed and that our democratically elected DA Chesa Boudin will be recalled. Over the last several months, Republican billionaires, real estate investors, and police officer associations poured $7.2 million into this recall. They spread disinformation, played on people's fears, and scapegoated DA Boudin for the city's challenges. We've seen this playbook in 2016 when Trump was elected, and we're saddened that it worked during an extremely low turnout election with only 25% of voters casting ballots. But we at SF Rising Action Fund know this fight doesn't end here, not by a long shot.
San Franciscans deserve and want more. SF Rising Action Fund is excited to announce that we are co-convening a newly formed San Francisco District Attorney Accountability Alliance along with the ACLU of Northern California. Alliance members include the Coalition on Homelessness, Coleman Advocates for Children & Youth, SEIU 1021, Smart Justice California, and Treatment on Demand Coalition. This alliance will work to prioritize safety for all communities, and fight back efforts to dismantle criminal justice reforms.
We call on Mayor London Breed to appoint a district attorney who will seek true justice for all; hold police accountable when they break the law; and uphold public safety that supports victims as well as root cause solutions. San Franciscans deserve a district attorney who will work to eliminate inequities in our criminal legal system.
We know right-wing pundits and recall proponents will spin this win as a victory against reform efforts. But San Francisco's progressive values are very much alive in the working-class communities we organize. Thank you to each and every one of you who put in many hours talking to voters, your family members, and neighbors to fight this recall. We are grateful for those who fought the lies and misinformation that has characterized this recall effort.
In 2019, we spoke to thousands of hard-to-reach voters of color who helped elect Chesa Boudin. They were excited about his commitment to address the ballooning crisis of mass incarceration, get to the root cause of crime, and utilize evidence-based solutions like diversion and rehabilitation programs. Over the last few months, our canvassers talked to voters who understood that change takes time and that we need to have nuanced conversations. Our coalition of Black, Latinx, Asian working-class community members know that the criminal justice system has failed us over and over, and we know that we deserve more than the same failed policies that make us no safer than before. We are in it for the long haul.
When DA Boudin took office, he fulfilled his campaign promises by doing away with cash bail, ending the practice of charging children as adults, and holding police and corporations accountable. Boudin was the first DA to bring criminal charges against a San Francisco police officer for an on-the-job shooting of an unarmed Black man, Keita O'Neil. In response to rising attacks on Asian Americans, DA Boudin expanded victim services to AAPI communities, hired the first bilingual Chinese American Victims Services Director, and created an AAPI Elder Steering Committee.
Recall supporters want us to believe that we will be safer without DA Boudin but we know that this is not black and white. Our communities need a true pathway to public safety; we need holistic solutions. We will not get there with the failed harsh crime policies or by simply locking people up. Regardless of the election results, we will continue to organize, build our movement, and fight like hell for our people.
In solidarity,
SF Rising Action Fund
Paid for by Tenants and Families United to oppose the Recall of District Attorney Chesa Boudin sponsored by Center for Empowered Politics. Committee major funding from Elizabeth Simons