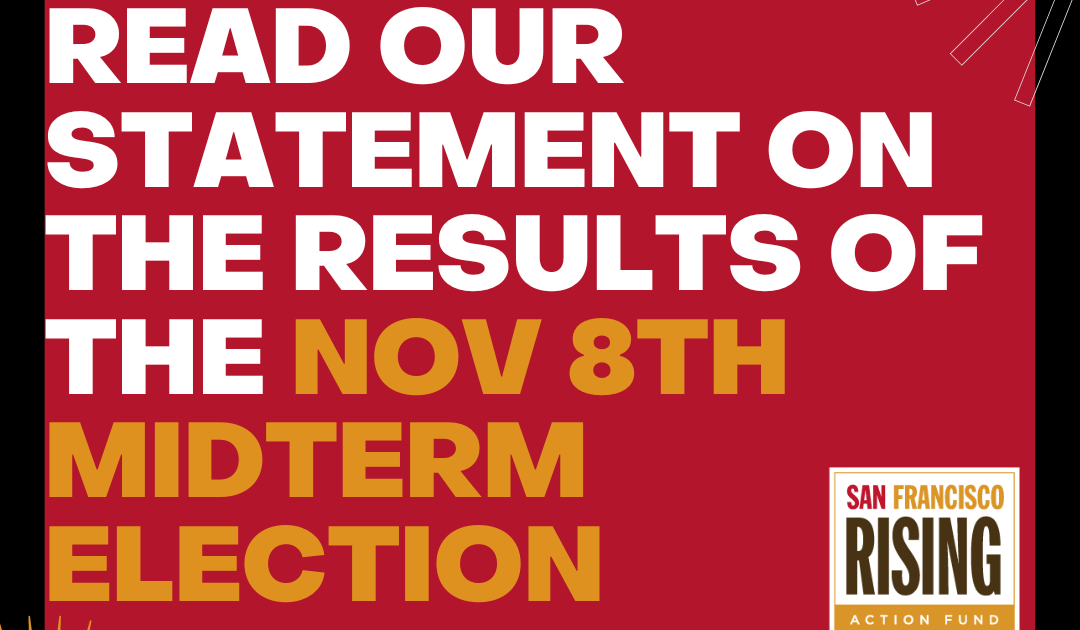 Our Statement on the Results of the November 8th, 2022 Midterm Election
SF Rising Action Fund is grateful and thrilled to see that there have been many progressive victories across the country in the November Midterm Election. It's clear that even amidst disinformation, divisive rhetoric, and fearmongering, voters are backing candidates who speak to their values and will fight for everyday working people. We extend congratulations to our local endorsed candidates who won their races including: Supervisor Shamann Walton, Board of Education member Alida Fisher, and College Board Trustees Susan Solomon, Anita Martinez, and Vick Chung.
We are, however, deeply disappointed by the results of the District 4 and District 6 Supervisorial races. In District 4, Supervisor Gordon Mar is projected to lose by a slim margin, likely to be hundreds of votes. What hurts the most is knowing that if District 4 had not been redistricted in such a partisan way to add wealthier, more conservative voters, Supervisor Mar would likely have been able to remain in office to continue his work.
SF Rising Action Fund is grateful and appreciative of Supervisor Gordon Mar's accomplishments in his first term, and his commitment to working families. As District 4 Supervisor, Supervisor Mar championed building affordable housing so more San Franciscans can stay in the city, guaranteed free city college for the next 10 years, and expanded paid sick leave for more than 200,000 workers during the pandemic.
We are also disappointed by the defeat of Honey Mahogany for District 6 Supervisor. We see many connections between the lived experiences of our grassroots members, and Honey's experience seeing the struggles of her refugee family and community in this city.
With all the new development happening in downtown, we know that working families in District 6 are getting drowned out by high-income earners and big tech.
We believed Honey's decades of experience as a community advocate and social worker made her a great fit to represent District 6 and get residents who need it into housing, community programs, and treatment.
While the results of these two district races are saddening, we won't stop fighting. SF Rising Action remains committed to ensuring that residents in District 4 and 6 have the resources they need to thrive including affordable housing, living-wage jobs, and healthcare.
With a tumultuous political landscape across the country, we realize the importance of San Francisco remaining a home for working-class people of color. As new influences impact our city such as billionaire political spending, tech layoffs, and more luxury development, we must remain a stronghold for marginalized residents so they can continue to live, learn, and thrive here.
SF Rising Action Fund will keep working to win big for working-class communities of color in every election, big or small, because we know the tremendous impacts each race and ballot measure can have.
We also know that change happens beyond and in between elections too, such as through holding our elected officials accountable and educating our community on the issues that matter most to build a long-term movement. We are excited to keep working with our powerful base and committed volunteers and allies to keep San Francisco a home for the communities who make it the great city that it is.